Seamless Decorative Flake floor coverings can be a great alternative to your designer floors. Making that space come alive with an easy alternative to commercial vinyls, ceramic tiles, and plain new or old concrete.         
A typical installation can be performed from between 1-3 days dependent on job size and the system materials being used for each individual application.
The typical seamless Flake system comprises of the following process:
1. Primer/Sealer and epoxy base-coat
2. Decorative coloured Flakes cast into the wet base coat.
3. One, two or three coats of a UV stable non yellowing polyurethane or 1 coating of a polyespatic topcoat.
The Flaking System that you decide to use with our Flakes will depend on the types of epoxies and top clear coating you are use to completing a Flake floor.
The preparation of the floor is the key part of any seamless floor, before you attempt to apply your seamless Flake floor system and is paramount to a perfect long lasting job.
You will need to research all the different epoxy products on today's market and find the best system that will work on your particular job.
The top coatings you also will have to research prior to completing your job to ensure a perfect finish and longevity to the application system of a Flake floor. 
We recommend if you are interested in applicating Flake jobs, to do some training with a professional in the filed of seamless Flake flooring. 
The art of Seamless Flaking is having knowledge of all your products and there make up (the way they work), the Knowing of your products will give you confidence in achieving your perfect seamless Flake floor.
There are seamless Flake systems out there that work and some that don't, you will need to find the one that works for you with testing before completing a paid job.
The last thing you want, is to be called back because you didn't research your products and now something has gone wrong, you then have to re do the whole job again, this is not a good look for you, or the Seamless flooring industry and lastly a costly mistake out of your pocket.
You are welcome to call our team her at Designer Flake do discuss your ideas and help you with choosing the right products for your particular jobs.
Designer Flake has an experienced professional Applicator available to travel anywhere in the world to train you or your staff in the application of all our Flake ranges.
Having a full qualified applicator to teach you the art of flaking is invaluable to any new applicator or business. Please feel free to contact us to book our expert professional Applicator to insure there is no disappointments. (The service is worked out based on your training needs, and all expenses to be paid by you or your company inc hiring of any tool or equipment you may require to use during any training) The knowledge and expertise gained is free. 
Application of the Natural Stone Look Range

The application of this Natural Stone Range is incredibly unique and different from the usual flake application process. Each applicator will adapt their own process once they have experienced it a few times.
It is a matter of walking over your wet epoxy floor with the use of spike shoes and proceeding to broadcast the Flake mix filtering through your fingers in a shaking motion first letting the bigger flakes fall through and then filling in the floor with the finer particles of the mix. This will allow even distribution of some larger flakes over the floor without too much finer parts settling in one place.
With the makeup of the Natural Stone look Flakes there is a special mix to enable the floor to be totally filled in. unless you wish to partially flake the floor, then creating another look from the original design of the Natural Stone look.
You must be careful in this application to not allow only the larger flakes to settle to much first before the rest of the flake mix as you will stop the Flakes from creating that polished stone look.  So, you will need to filter out the mixt with your fingers and apply the flakes first before then filling in the whole floor with the finer parts of the flakes.
Most people will walk around and distribute the larger flakes first to make sure you have an even distribution of larger flakes on your floor before then filling in your floor with the rest of the finer flakes of the mix.
   Why concrete coatings can and will fail and how to avoid this.
Coating failures are typically caused by inadequate surface preparation. For a coating to bond properly, to concrete surfaces it must be sound base, clean, free from surface defects and completely dry.
 The surface should also be properly roughened by either sanded or grinded to establish a good mechanical bond for the primer into the concrete surface.
 Failure to properly prepare the surface typically results in adhesion failures or the coating separating from the concrete wasting both time and money.
 Before applying a decorative or protective coating to a vertical or horizontal concrete surface, prepare the surface by cleaning and roughening, repairing defects, inspecting and testing the surface for soundness and cleanness.
 Because surface preparation requirements vary from one job to the next and for different types of coatings, be sure to read and follow the recommendations provided by the coating manufacturer.
 Failure to follow the manufacturer's recommendations before applying your primer, base coating and flakes with clear top coatings correctly may void the manufacturer's warranty, but more importantly, may cause the coating to fail.
 Before starting the job, examine and test the surface to be prepared for the presence of debris, dust, dirt, oil, grease, laitance, mortar splatter, efflorescence, curing agents, water proofing, sealers and other contaminants.
 Any of these contaminants will prevent the coating from properly bonding to the concrete surface.
 Test concrete for oil, grease, curing agents and sealers by performing a water absorption test. Place a few drops of water on the concrete. If the water beads up, then a surface contaminate exists.
 If the water absorption test is inclusive, place a few drops of diluted hydrochloric acid on the surface. If there is no visible reaction (foaming), then a surface contaminate exists.
 Next, try to determine the depth of the containment by progressively sanding or grinding the surface until the surface freely absorbs water or a reaction occurs with drops of acid.
 If a surface contaminate exists, it must be completely removed either chemically or mechanically before applying a coating.
 For concrete floors, test the surface for laitane by scraping the surface with a knife. Laitance is a weak layer of cement and fine partials brought to the surface by water.
 If a powdery material can be scraped from the surface, excessive laitance is present and a coating won't bond properly. (surface too weak to take hold a seamless coating)
 If you anticipate using water to clean a floor surface, conduct a moisture test of the existing concrete to establish a baseline floor-moisture condition.
 If efflorescence exists on the surface, perform a moisture investigation because efflorescence may be evidence of a moisture problem that can cause future coating failures.
 Efflorescence is a form of deposit of salts, usually white dusty partials, that forms on the surface of concrete related by moisture movements through the concrete.
 If efflorescence or a moisture problem exists, it must be addressed before applying a seamless coating. (sealers for this particular situation exist from waterproofing suppliers)
One of the biggest floor or wall releasing problems can be from Moisture Emission
Moisture emission issues can cause huge problems for concrete flooring, and in worst case scenarios they can result in extremely costly damage for both new projects as well as renovations.
Despite being amongst the most solid and hefty of all building materials, concrete is highly susceptible to moisture vapour problems due to its porous nature.
Concrete slabs are capable of absorbing moisture from the underlying ground, to an extent determined by local geographic conditions such as the depth of the water table and soil gradation.
This moisture is then liable to spread upward through the concrete before either condensing upon its upper surface, or being emitted in the form of a vapour.
Even in the absence of contact with moisture-laden soil, concrete can still suffer from vapour emission problems as a result of water it already contains, which was used during the construction process to either enhance its work-ability or achieve proper curing.
The emission of vapour or the accumulation of condensation on the surface of concrete floors can in turn cause a range of potentially costly problems, including the buckling and blistering of floor coverings, issues with adhesives, non-breathable coatings and epoxies, the proliferation of mildew and mould, as well as injury to building occupants incurred as a result of accidents on slippery surfaces and related litigation woes.
These problems have worsened over the past few decades for a range of reasons, including the use of absorptive aggregates in lightweight concrete, the absence of vapour retarders, and the removal of asbestos in resilient flooring.
Thankfully for builders, as well as building owners and occupants, there exist a range of methods for mitigating the absorption and emission of moisture by concrete floor slabs.
These methods each possess their own respective advantages and drawbacks, so they can be employed either individually or in tandem to remedy any moisture emission problems.
below-slab barriers placed beneath the floor prior to the pouring of concrete can serve as a highly effective means of preventing the migration of moisture from soggy ground.
While they may not be porous like concrete, they are still susceptible to tears and ruptures as a result of contact with sharp objects or debris such as rocks, re bar or wiring, which can in turn impede their effectiveness.
Similar mitigation methods can be deployed on the opposite side of concrete flooring slabs in the form of a dispersive membrane or surface-applied moisture vapour barrier.
Dispersive membranes are placed on the top of the concrete slab, effectively serving as a barrier between ascending moisture and the upper floor surface.
This method is hampered, however, by its inability to serve as a solid substrate, which makes it a poor choice for floors that are likely to encounter significant amounts of heavy traffic. It also limits options for flooring finishes.
Dispersive membranes can also cause problems because they do not actually prevent moisture from rising through the slab; they only stop it from being emitted as a vapour through the floor.
Surface-applied moisture vapour barriers can also be applied to the top of concrete floor slabs to prevent moisture emissions from passing through. Compared to dispersive membranes, this solution offers the added advantage of protection from high pH levels that compromise adhesives.
The systems can be installed permanently within a matter of hours, upon both old as well as completely new concrete flooring.
In addition to surface barriers on either the top of bottom of concrete flooring slabs, dehumidification measures can also be employed to prevent the damage caused by moisture emission.
Dehumidification is perhaps the most convenient vapour mitigation system currently available on the market, and simply involves placing a commercial dehumidifying device on top of the concrete flooring slab to deal with existing moisture issues.
While it serves as a quick, easy fix solution at the outset of the construction process, the use of dehumidifiers has its limitations as a long-term or permanent remedy for moisture issues.
This method's effectiveness can also be uncertain, given the difficulty of determining the amount of time it takes to remove sufficient amounts of moisture from the concrete prior to the installation of floor finishes.
Dehumidifiers are further limited by the inability to deploy them on new concrete slabs, as it can result in damage to the material in the form of cracking or curling due to rapid drying.
                                                                                                             *RECOMMENDED FLAKING GUN*
FLAKING GUN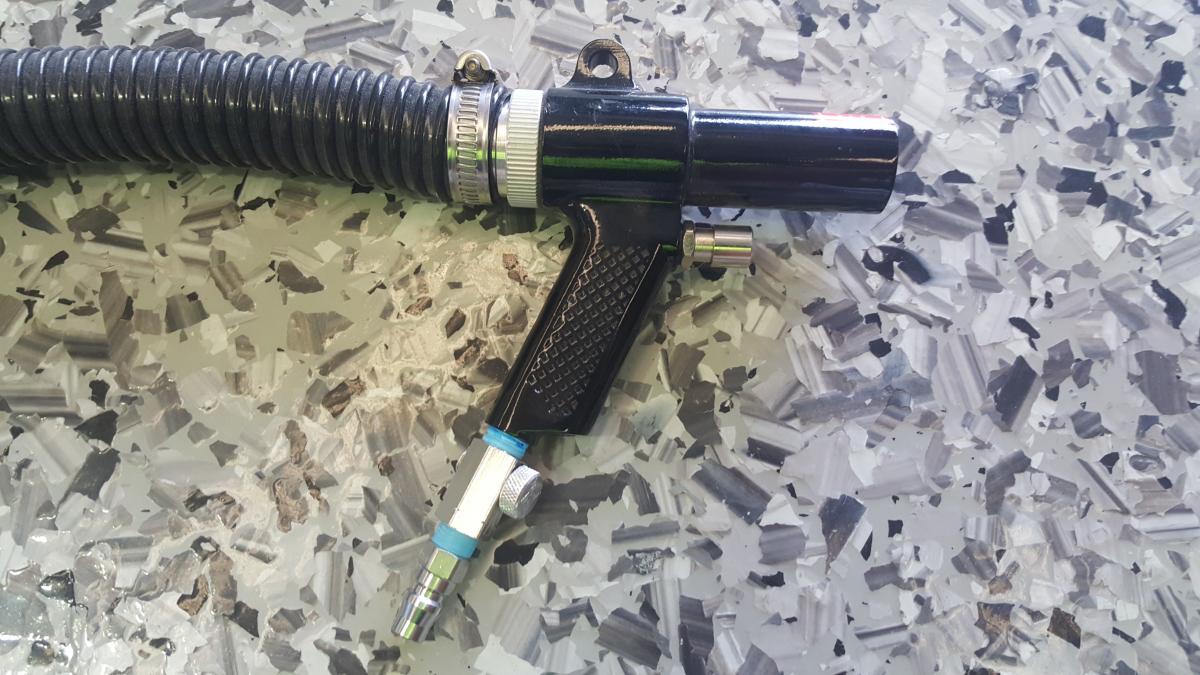 This spectacular piece of revolutionary equipment has been specialy developed to help you Flake the perfect job, that being walls or floors. The Flaking Gun out puts a perfect amount of flakes on to your walls or floors. With the unique air flow gauge giving you control of the velocity of Flakes on to the surface. 
This Gun will help to get that perfect even broadcast across your job and minimize the amount of Flakes used for coverage on your job. Scatter Flake is made easy with the Flake Gun getting you that all over even coverage. The guns are readily available at Tradesmans Warehouse.please visit them for more information @  www.tradesmanswarehouse.com.au or sales@tradesmanswarehouse.com.au
 Advantages of this type of seamless floor system:
Does not harbor nasty bacteria's and making it easy to clean all seamless surfaces with ease
Graffiti resistant to most products
Water impervious from under or above
Dust resistant
Anti-static
Can lower sound noises
Can make any surface feel cool in hotter weather conditions
Can feel warmer in cooler weather
Resistant to chipping, cracking or peeling if preparation was done properly
Will cover most flat non movement surfaces — especially concrete
Low maintenance
Nice to walk on with bare feet as its a form of insulation
Typical areas of a seamless floor application:
Garage floors
Homes – internal areas, rumpus rooms, verandas
Patios
Schools walls and floors
Showrooms
Commercial kitchens with coveing
Hotels
Laundries
Bars
Bench tops - update your old kitchen bench saving money in pulling out the old one
Barbecue areas
Pathways
Internal walls
Bathrooms over existing tiles
wet areas
and so much more