A Letter from Bob Fletcher in regard to Business during COVID-19
A message to all our customers from Bob Fletcher – Owner / CEO Designer Flake Pty Ltd
As a manufacturer, in many ways we are dependent on our suppliers in a similar way that our customers depend on us to fulfill their orders. In light of the new Coronavirus now circulating around the world, the potential for impacts on our ability to procure materials and produce product is very real.
The world watched with great attention the struggles that China recently has had and still are dealing with when the outbreak of the novel Covid-19 virus started. The effect to their own economy and ability to conduct business was both sudden and profound and resulted in their direct ability to produce product. Most of this impact was a direct result of both Government directed quarantines and of course their workers becoming ill and unable to go back to work again as they honored the quarantine restrictions in place.
Most of China have already restarted their business activities. Nevertheless, strict regulations by local authorities are still in place and the result is a slow start-up. As their production facilities were out of operation for several weeks, their total manufacturing capacities are only at 50% of their usual output. Today we have a clearer picture about the impact on other suppliers located outside China.
I can personally attest that Designer Flake does not rely on materials directly produced in China or overseas and a recent phone survey of our suppliers did not identify any supplier that sole sources ingredients from China as well. On that note, Designer Flake is prepared to produce products as always and have great confidence in our suppliers to be able to produce what we need as well. I am a firm believer in being prepared and with that I wanted to also let you know I have proactively secured additional inventory already in house that we may need in the event of additional slowdowns that could affect us in ways not yet identified.
The virus has been out in circulation now for over 2 months and the pattern for its spread and impact it may have is still new enough that there remains the possibility for surprises. I love surprises but not in business and the heart of the reason I am writing this letter. I want to convey to our customers that we have taken every step and more to ensure that not only we are able to continue to operate, but also take additional steps to insure the health and safety of our employees and their families.
I fully expect it will be business as usual for Designer Flake and its customers and we will do our very best to get your orders to you in the timely fashion as you have come to expect. As always, we value our customers and wish you to stay healthy and productive as we navigate our way through the next few months. If the situation changes, we will inform you as soon as that information is at hand.
Thank you for your understanding and cooperation.
Bob Fletcher Owner / CEO
Welcome to the Home of Designer Flake AUSTRALIA Pty Ltd
Designer Flake IS the only Flake manufacturer in Australia, others may call their Flakes Australian however may be imported. We are the SELLERS OF A VERY HIGH QUALITY AUSTRALIAN FLAKE DISTRIBUTED WORLD WIDE
Our Managing Director Bob Fletcher has more than 50 years of experience within the Flooring Industry. Throughout Bobs career he has demonstrated excellent leadership skills and trained personnel in areas from Manufacturing right through to dispatching and customer service.
Because of his experience he has proudly developed and manufactured a leading flooring product that has been used in all forms of the building industries and domestic markets now for over 25 years and still going strong at 73 years of age.
Our Flakes are manufactured for use as part of decorative seamless epoxy floors and walls, used widely in the commercial and also the domestic markets.
Designer Flake has designed a variety of vibrant single and blended Flake colours to ensure customers have a wide range to choose from:
Details of our Flakes AVERAGE SIZES & ALL BLENDS
Standard Blends --------------------are available in (micro or 2mm

on request-extra charge applies

), (S

mall or 4mm) or (Large or 6mm)

Marbletone Blends -----------------are available in (Micro or 2mm on request-extra charge applies),

(Small or 4mm) or (Large or 6mm)

New Generation Blends------------are available in (micro or 2mm

on request-extra charge applies

), ( Small 4mm) or (Large 6mm on request-extra special blend charge applies)
Stonegrip Blends -------------------are available in

(Micro only) (Slip Rated floor to RI0/RI2) - (Can be produced into micro & small with no-stone on request- extra special blend charge applies)

Classic Marble ----------------------are available in (Micro or 2mm

on request-extra charge applies

),(Small or 4mm),(Large or 6mm ) or

(XL size or 25mm)

Single Coloured Flakes -------------are available in (Fine or 1mm),( Micro or 2mm), (Small or 4mm) or (Large or 6mm)

Natural Stone Range ---------------are available in

one only mix, that is made up of

various sizes of our Flakes to create our Stone effect range.

Glow Flakes (white in colour)-----are available in our 2 very vibrant glow colours of Yellowy/Green & Aqua Blue Sizes (Micro or 2mm),(Small or 4mm) or (large or 6mm)

*PLEASE NOTE SIZES OF OUR FLAKES PROVIDED ABOVE ARE ONLY AN AVERAGE AND WILL VARY IN SIZE IN THE PACK DUE TO PROCESSING, PACKING and transporting.
Each of our many single colours and over 80 blended colour Flake combinations are displayed under our Products heading, making it easy for you our valued customers to make the perfect colour choices. * (We strongly suggest you obtain your choice of our dry Flakes to make your own sample using your own system or one of our ready made hard samples with the use of the Duron system to get the closest colour match to what you are after before ordering. *PLEASE UNDERSTAND with the preciousness of our Flakes (THERE WILL NOT BE ANY RETURNS ON ANY OF OUR FLAKES AFTER PURCHASING).
Designer Flake is always striving to improve the range of its products available to you the customer, so we can produce custom blends to suit your individual needs on request. (extra charge applies for this service)
Our Flakes are available in bulk supply of 20 Kilo brown boxes or 120 kilos drums. All Flakes rangers are in-stock, available for quick delivery (custom blends and larger orders will require a little extra time to be completed before dispatch).
Our products are made right here in Australia, using only Australian sourced resources, therefore no waiting time for stock, as with many of the other Flake suppliers. If you happen to require extra Flakes, we can have more Flakes to you in no time at all.
* With our 4 kilo pails and a new and improved Flake formula our Flake coverage rate has now been improved from 12sqm per 4 kilos up to 15sqm per 4 kilo pails. Coverage rates will vary on the broadcasting techniques of the flakes from light to heavy.
Our pails are packed and hold 4 kilos in all ranges of Flake, the exception of our Stone Grip which is still packed in 5kg and our Classic XL is now in 3kg pails.
We have also been working on our flake production over the past couple of years to improve quality control, and in doing so we have improved our formulation and production times. This has in turn made our Flakes more efficient in making our Flakes lighter, providing better coverage and less quantity needed per job, hence our new claims of up to approximately 15sqm per 4kg pail. (depending on the broadcaster)
The 15sqm coverage for the 4kg of Flakes is a conservative claim as our broadcasting test results did achieve up to 18sqm on most blends. (once again, all depending on the broadcaster and their individual preferred techniques)
The 4kg pail has been widely accepted and preferred for safer transporting. Delivering quality Flakes from our factory to you in perfect order when arriving at its destination. (these plastic hard pails have been sourced to help in minimizing the breaking down of the flakes in transporting)
Coverage rate are: (considering broadcasting techniques)
4 kg pail up to 15sqm
5 kg pail (stonegrip) up to 10 sqm
3 kg pail (Classic XL) up to 15 sqm
GLOW IN THE DARK FLAKES.
Why not try some Glow in the dark Flakes just added into your next blend mix, available in our 2 amazing bright glowing colours - Aqua Blue Glow or Yellow/Green Glow. These Glow Flakes have been made using the best quality glow powders sourced and tested from around the world.
*Glow Flakes can be pre-blended into any of our current Blends that contain white in there blend only or you can create your very own made up blend when white Flakes as part of the mix. (just for that added extra sparkle when the lights are off). NON GLOW COLOUR OF THE FLAKES IS WHITE.
Designer Flakes 2 amazing Glow Flakes colours come in 3 readily available sizes, Large, Small and Micro. We do however recommend the larger Flakes as they hold the Glow longer. We have had special experts testing there Glow Flakes to creating this spectacular glowing effect created for use on mainly safety floors or just to create an amazing effect on your floor or wall on your next project. Even bench tops would look amazing with a splash of Glow Flakes in the mix.
Our expert team of chemist have worked timelessly producing the highest quality and have achieved the longest possible glow by using specially designed powders and materials sourced from around Australia and the world. They have turning them in to the brightest Glow Flakes that can possible be achieve. Available in two Amazing and popular Glow colours - (Yellowy/Green) and (Aqua Blue). Check out these amazing Glow Flakes for yourself.....You can now purchase these Glow Flakes from your regular outlets or ask us how......Add them to an existing blend for that added effect that will amaze your friends.
*(disclaimer) Glow Flakes are charged by either natural sun or powered lights, once the light has gone out the Glow effect will eventually dissipate over time until the lights go back on and the recharging of the glow Flakes starts again, The time for the glows dissipation in the Glow Flakes will depend on the amount of time the Glow Flakes have been exposed to the light and the amount or size of the Flakes. Glow Flakes are more a safety aspect of your floor and act as a safety feature so you can see the floor surface when the lights go out. Our Glow Flakes are not intended for a permanent Glow once the lights go out. (novelty effect only) Flakes come in there non-glow form of white.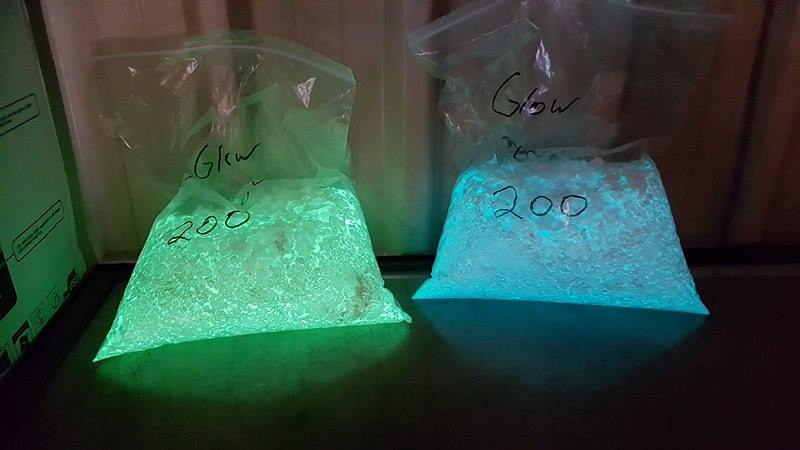 GREEN/YELLOW 200% brighter
AQUA BLUE 200% brighter
"The bitterness of low quality remains long after the sweetness of low price is forgotten." by Benjamin Franklin
*IMPORTANT TO NOTE* WHILST EVERY CARE IS TAKEN IN THE PREPARATION OF THE INFORMATION CONTAINED IN THIS WEBSITE, DESIGNER FLAKE PTY LTD WILL NOT BE HELD LIABLE FOR ANY ERRORS IN TYPING OF INFORMATION. ALL INFORMATION IS CONSIDERED CORRECT AT THE TIME OF PUBLISH.